Nations League: National team threatens next hammer group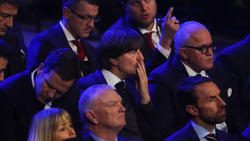 Even before the European Championship finals next summer, Joachim Loew and the German national football team could be again Hammerlos with France and Portugal as opponents
The UEFA Executive Committee wants to set the lottery pots for the next edition of the Nations League at its meeting in Nyon on December 4th.
According to information from the "German Press Agency", the European Football Continental Association will stick to the ranking of the premiere competition in 2018.
The German national team would thus be together with Poland, Croatia and Iceland at the draw in Amsterdam on 3 March 2020 in Topf 3. These teams would have actually relegated to the B-League, but will benefit from topping up the A-League to 16 teams.
In the first pot will be the final group winners Switzerland, England, Netherlands and Premier winners Portugal.
Spain, France, Belgium and Italy are to be classified in pot 2.
The fourth pot is formed by the promoters from Bosnia-Herzegovina, Ukraine, Sweden and Denmark. From pots 1, 2 and 4 the DFB-Elf gets one opponent each.
Two group matches each take place in September, October and November. On Saturday, the DFB-Elf for the European Championship finals in the summer of 2020 World Champions France and European champion Portugal have been attributed.