Fredi Bobic commented on the criticism of Bayern's Niko Kovac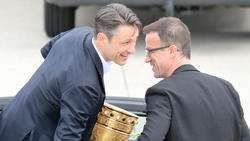 Fredi Bobic, sporting director, faces the success of Bundesliga club Eintracht Frankfurt. Before the match against FC Bayern, the 48-year-old spoke about former Eintracht coach Niko Kovac and the continued high flying of the Adler.
"Every day is a great pleasure and a great story, if you see it How cool you can find Eintracht in the meantime – in Frankfurt, in Germany, even in Europe, "said the sports director in an interview with the" Sportbuzzer ".
But even seven years after Eintracht Frankfurt's return to the Bundesliga, the top priority is clear: "My goal is that we never have to make headaches about relegation," said the former European champion.
In today's football world, the official wishes for a more differentiated treatment of public opinions. Many players and coaches are driven by the fear of making mistakes and then having to fear for his job.
Bobic takes Kovac into custody
"I totally believe that you can even make mistakes make and express opinions – the right is right, "Bobic clarified. Recently, Bayern coach Niko Kovac was criticized when he said that they were meeting in Frankfurt "on the best fans in the league."
"He's right," Bobic confirmed with a laugh. Nevertheless, Kovac is interpreted that negatively, "while he was as always only authentic and honest – that's a shame."
Bobic described himself as someone who always say his opinion. "If I do not want to lie, I prefer not to say anything, that's the way I normally handle it," he explained.