Football Bundesliga: Ahlenfelders alcohol faux pas at Werder against Hannover 96: pause whistle after 32 minutes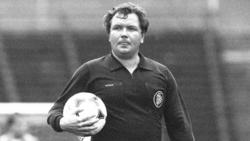 On 8 November 1975 whistled referee Wolf-Dieter Ahlenfelder in the Bundesliga game between Werder Bremen and Hannover 96 already after 32 minutes to break. The alcohol was not entirely innocent of the cult referee's faux pas.
Shortly after 4pm, players and spectators in Bremen's Weser Stadium did not trust their ears. Wolf-Dieter Ahlenfelder asked Werder and 96 to halftime, 32 minutes were only on the clock.
In the midst of general disbelief and astonishment, the referee let go first. However, one and a half minutes before the end of the regular season, Ahlenfelder finally rang in the half-time break.
The premature pause-whistle became a legend. Just like the referee who did it. Ahlenfelder was considered one of the most popular players in his field.
His handling of the players was perceived as beneficial, direct and open-hearted. Ahlenfelder always acted with the right slogan on the lips.
If the pros lay on the ground for too long after a duel, they also commented on him like "boy, get up, the heater is not on"
World Champion Paul Breitner became acquainted with the impartiality and serenity of the referee when he barked at him during a Bundesliga match: "Ahlenfelder, you whistle like an ass!" Whereupon the native Oberhausener replied loosely: "Breitner, it can be, that you play like an ass?"
Wolf-Dieter Ahlenfelder: "men do not drink Fanta"
Today unthinkable, to his Time cult: Ahlenfelder had his very own view of the role of referee on the pitch: "The referee must be a designer of the rules, he must have a little more pep and say: I whistle as I interpret this."
More than 100 times Ahlenfelder led a game in the Bundesliga. With the interpretation of the half-time length, he exaggerated it only once, just at the legendary Früh-whistle in Bremen.
After his big faux pas Ahlenfelder admitted that he had not been sober on the pitch: "When I say that If I drank water and Fanta, then that would be a lie. "
Maybe that's why the referee ignored today also legendary hint of Bremen international Horst-Dieter Höttges:" Referee, something can not be right, my jersey is still quite dry. "
In the region Ahlenfelder is cult despite or just because of his frank alcohol confession. Even today, visitors to the bar in Bremen are served with a Pilsner and a Maltese when ordering an "Ahlenfelder".
Ahlenfelder's sympathy for one or two cold drinks is further illustrated by another inimitable statement by the referee.
Once when several bottles flew onto the field on the Lauterer Betzenberg, he said: "The empty bottles immediately back! Collect the Follies, in half time we will taste a delicious!"
Mats -Yannick Roth