"These were two-part 90 minutes"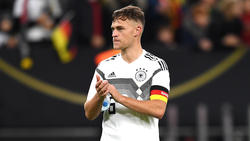 Fresh and courageous, but without Fortune: With class and finesse, a German Notelf has thrilled her fans at the debutant ball in Dortmund, but gives away a possible prestige victory , Despite record-breaking 13 failures, the team coached by Joachim Loew convinced on Wednesday also battered Argentina in the international classic with a 2: 2 (2: 0) – and the first time since the world title without a world champion of 2014. Here are the votes for Game:
Joachim Löw (National Coach): "We wanted to be in the game right from the start and look for our chances, but unfortunately we could not keep that up over 90 minutes, but like the new players themselves We've had a few ball losses, not so much courage and we've been swimming, and Argentina has thrown everything forward, so I would have liked more rest in the team. "
Joshua Kimmich (national team captain and captain on Wednesday): "It was a two-part 90-minute half-way through, we were very good in the first half and in the second half we ran a lot behind the goalkeeper. It has happened to us a few times already and it is a very special feeling to be able to wear the captain's armband at my young age. "
Marc-André ter Stegen (goalkeeper): " For me it was important to play the 90 minutes, if you do not play, you can not show yourself, I always want to keep going and work. "
Kai Havertz (national player): " Serge Gnabry looked amazing and then it was not that hard to beat the ball in. It's been a childhood dream to score a goal in the national team. "
Robin Koch (international): "For me, a big dream is in Erfüllu I focused fully on the game and tried to enjoy it. "
Julian Brandt (National Team): " Of course we would have liked to win but in the end we noticed that we were a new team. Not everything can work out. Too bad. "