Coutinho praises "top coach" Niko Kovac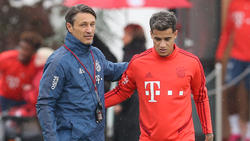 Under Niko Kovac, Philippe Coutinho flourishes at Bayern Munich. Now, the star newcomer has found words of praise for his new coach.
"He's a top coach and a super guy who likes to work hard," Coutinho told the "Sport Bild" and added, "He's kicking open to everyone, we have a good contact, I am happy to work under him. "
Since moving from FC Barcelona to Bayern, Coutinho has played in all competitive matches. He scored two goals and prepared three more goals.
Kovac had also recently raved about his protégé. "He's so inspired on the ball, it's unbelievable what he does with the ball, he's literally dancing with the ball," said the 47-year-old.
"He sees things that others do not see is a player who knows exactly where to go and how to use his teammates, "added Kovac.